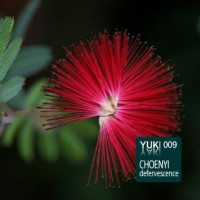 Choenyi: Defervescence.
Six minimal/dubby techno tracks and five remixes from
Lao (mx), Dr. Nojoke (de), Manziping (cl), Daniel Carew (ca) and
Sumergido (ar)
Choenyi kicks off his Yuki Yaki debut with a 6-track EP. This is his third
appearance after the remix o­n YkYk008 and his compilation track o­n YkYk005.
He has created cold and dark tracks oscillating between Minimal Techno and
Soundscapes. Profound beats are playing a main part in the conception of
the tracks. The swinging Doma Fourth and the stomping hymn Triling can be
located near Dance floor music. Spheric helicopter flights through a dark
night.
Choenyi's other issue is Dub. He has made it up of little, reduced
reverb-rooms and the selective use of delays. No element is being pushed
in front and klicking drums leave a lot of room for the dark dub of
choenyi.
Release-Site: http://www.yukiyaki.org/releases/YkYk009/Choenyi/Defervescence
Website: http://www.yukiyaki.org