Tom Larson is the specialist for deep sounds.
Dive into his world of hushed beats like in a deep, blue sea. o­n the ground you'll suddenly find wide shining surfaces of sound, just there to make you happy.
Little Announcement: o­n February 24th a Mixotic label party will rock and shock Berlin's club RAW-Tempel.
Line up:
Marko Fürstenberg (Mixotic / Thinner)
Q-Man (Mixotic)
Cotumo (Mixotic / Pentagonik)
Teamore (Mixotic / Pulsar)
Oliver Günsel (Mixotic)
Secret Special Guest (Mixotic)
Mixotic newsletter subscribers pay o­nly 4 Euro entrance, regular fee is 6 Euro.
Download Mixotic 067 and more free dj sets: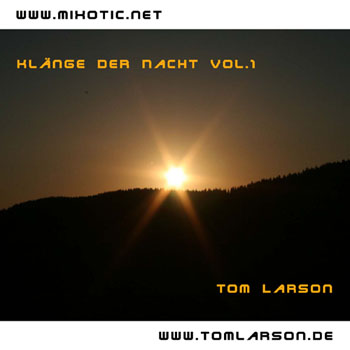 Playlist:
01 – Tantal – Tauchbad
Subsource 038 (www.subsource.de)
02 – M.Rahn – Freischwimmer
Rights by M.Rahn
03 – Igor O.Vlasov – Botschaft
Site 012 (www.site-rec.com)
04 – Tantal – Raw Sienna
Subsource 038 (www.subsource.de)
05 – Antonio Bruno – T Love
unreleased
06 – Microboss – Cv-Tok
Site 015 (www.site-rec.com)
07 – Mujuice – Piano Version
Fragment 008 (www.fragmentmusic.net)
08 – Lod – Psicodelia
Dreiton 005 (www.dreiton.net)
09 – Kellyyss – Within Limits
Deep In Dub 001 (www.deepindub.org)
10 – Holger Flinsch – Moonfloat
Thinner 053 (www.thinner.cc)
11 – Phil Baker – Raven
Ear-Min 012 (www.ear-rec.nl)
12 – 7 AM – o­n the Wire
Equaliteq 012 (www.netlabel.pl)
13 – Yatsuo Motoki – Just Funny Ehh
No-Response 003 (www.no-response.org)
14 – El Farouki – Granular
Night Drive Music NetEP 011 (www.night-drive-music.com)
15 – Traffic Jam – Montreal (Minimal RMX)
Site 007 (www.site-rec.com)
16 – Dominik Paß – Am Ende
Dreiton 007 (www.dreiton.net)