Bleubird "Street Talk 2"
Mai 2008 – HHCR007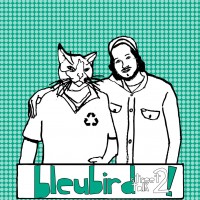 Originaire de Floride, membre d'une kyrielle de groupes gunporn etc.
P.S. : En bonus, une vidéo live de 'Cyp Not Pyt' extrait de "Street Talk 2" est visible ici.
01. Know The End (prod. Raoul Sinier)
02. Cyp Not Pyt (prod. Scott Da Ros)
03. Brute Force (prod. Bit Tuner)
04. Ripe Figs Remix (feat. Noah23) (prod. Playpad Circus)
05. G's On TGV's (prod. Kid Rolex)
06. Shotgun Birdy (prod. Scott Da Ros)
07. Perfucktion (prod. The Closing)
click more
dont Gunporn, formation multiethnique auteur d'un "Pretty Pretty Please" salué par les critiques en 2004 et récemment réédité au Japon), entité bien connue des fans du label Anticon, Bleubird est un MC feu follet, charismatique, virevoltant et traveler devant l'éternel. Un grand nombre d'entre nous l'a découvert en 2003 avec l'album "Sloppy Doctor" sorti sur Endemik Records, le label canadien créé par Scott Da Ros. Depuis, Jacques a fait son petit bonhomme de chemin. Les nombreux projets auxquels il a participé par la suite l'ont vu collaborer avec Sole, Alias, Subtitle a.k.a. Giovanni Marks, Existereo, Debmaster, Cavemen Speak, Zucchini Drive, Grand Buffet et bien d'autres. En tournée perpétuelle, il s'est forgé une solide réputation d'animal de scène, en multipliant ses lives explosifs sur les cinq continents. En 2007, Bleubird sort "RIP U$A (The Birdfleu)", toujours chez Endemik Records, un condensé de rap progressiste, féroce et plein d'humour. Vers la fin de cette même année il part de Montréal pour s'installer plus près de chez nous, à Berlin. C'est lors de cette période de transition que nous avons rencontré cet artiste hors du commun pour lui proposer de participer à l'aventure Hip-Hop Core Records. Quelques mois plus tard, chose promise chose due, il nous offre ce "Street Talk 2", un EP inédit de 7 titres avec Noah23 en guest et un patchwork international de producteurs aux manettes, à commencer par le canadien Scott Da Ros, le français Raoul Sinier a.k.a. Ra, les suisses Kid Rolex et Bit Tuner, l'allemand Playpad Circus et les autrichiens de The Closing. Enjoy!