Dub War is starting a monthly podcast available through iTunes. There will be different artists contributing mixes each month, and I hope this will be a forum for some of the talented voices in the scene to explore their sound in a different context from dj sets in clubs or on the radio.
The original idea for this came from receiving so many outstanding tunes which are not necessarily getting played in clubs but which deserve to be heard. Also I see it as an opportunity for DJs to experiment with mixing digitally if they want to push the technology in original ways.
Look out for the announcements in coming weeks and months about forthcoming guest mixes. The first one (#01 – September) is mixed by myself in Ableton Live, and #02 will be mixed by Joe Nice.
Get it on iTunes HERE, or search for Dub War NYC in itunes. When you click Subscribe, it will automatically download the latest one to your computer each month. Then if you have an ipod you can set it to automatically drop the latest one on there in your podcast settings.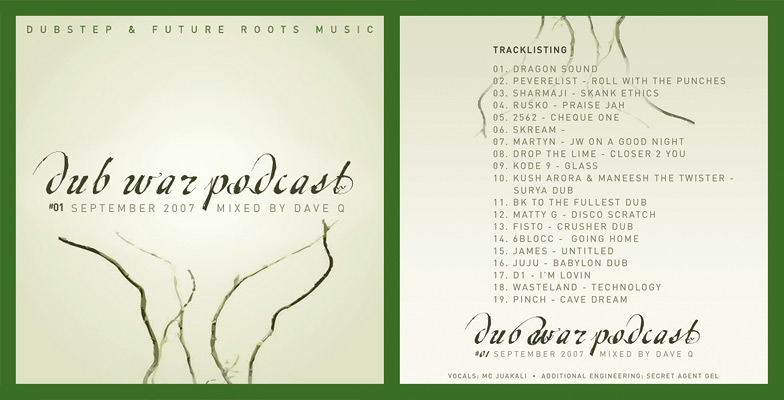 Tracklisting:
01. dragon sound
02. peverelist – roll with the punches
03. sharmaji – skank ethics
04. rusko – praise jah
05. 2562 – cheque one
06. skream –
07. martyn – jw on a good night
08. drop the lime – closer 2 you
09. kode 9 – glass
10. kush arora & maneesh the twister – surya dub
11. bk to the fullest dub
12. matty g – disco scratch
13. fisto – crusher dub
14. 6blocc – going home
15. james – untitled
16. juju – babylon dub
17. d1 – i'm lovin
18. wasteland – technology
19. pinch – cave dream
additional vocals: MC Juakali – engineering: Secret Agent Gel
_________________
www.myspace.com/dubwarnyc
www.dubwarnyc.com